Mcrew for GE


When we think of logistics our minds naturally gravitate to companies such as UPS or FedEx distributing packages from retailers to consumers. However, there is a vast and almost entirely remote infrastructure of railroads that we rarely see. This infrastructure serves as a connector from port cities to transcontinental railroads and interchanges with minuscule to enormous manufacturers. Logistics is the railroad's game of Tetris dealing with passage rights, waybills, hazardous materials, and complex billing. To be a key player in this game you need a tool that levels the playing field.




GE developed a tool to take on railway logistics from the crew's perspective, mCrew. It used a ruggedized Windows platform that connected and synchronized a crew's movements with the centralized train management system (TMS). This was effectively a game changer, however over time the ruggedized Windows platform has become less and less reliable and will soon no longer be a viable option.

With the impending change, I was tasked with advancing mCrew's functionality via Predix GO, an insanely powerful tool to organize and recall assets and their attributes for all mobile devices. Predix GO's UI operates as the entry point from an asset to HTML5 cards, where work is completed. The goal was to create a series of cards to mimic the actions of mCrew as it existed but remove the pain-points and simplify interactions.

To do this I needed to understand who the crew was and how they worked. After visiting two railroads and working with a variety of crews two main personas of a yard crew and train crew were defined. The characteristics of work between these personas was similar, but each crew had a unique vernacular in for actions and descriptions of the movements between track, train, and customer. Also, the crew's input of work was more reminiscent of data entry than task completion, literally reading the tasks then entering movement data into the device. Not a compelling way to do any work.




From these findings, I was able to craft a very simple information architecture that utilized Predix Go's task management UI as an entry point to two cards where the movement work would be completed. The information architecture was developed into a Predix Go / Node Stack prototype to then test with the users for feedback.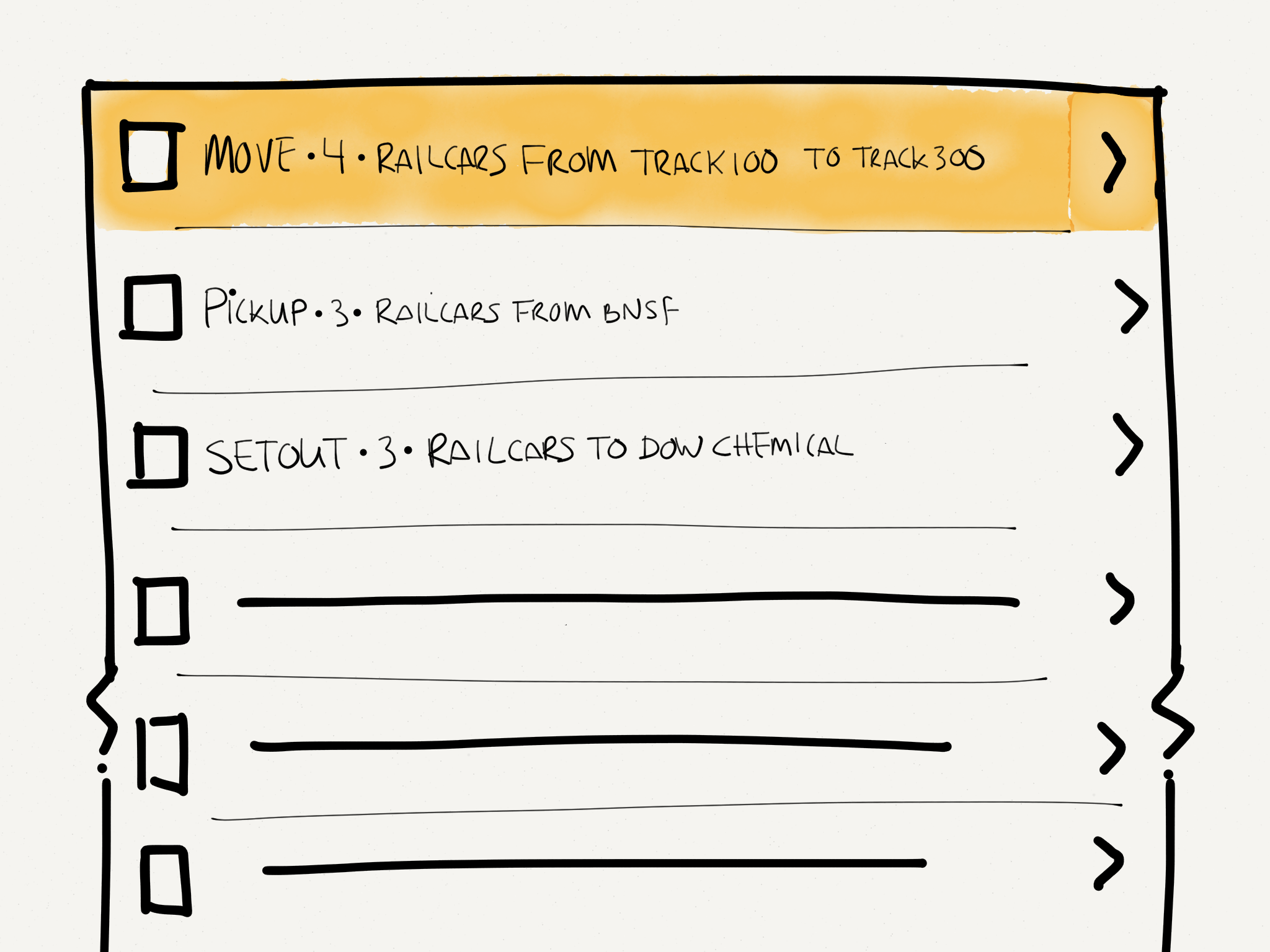 The feedback identified the need for a third card existing between the Predix Go's task management UI and the initial cards. This card expanded the detail of the tasks while allowing rapid movement completion, and providing the ability for the user to further drill into a specific tasks and act within a variety of views for any adhoc work.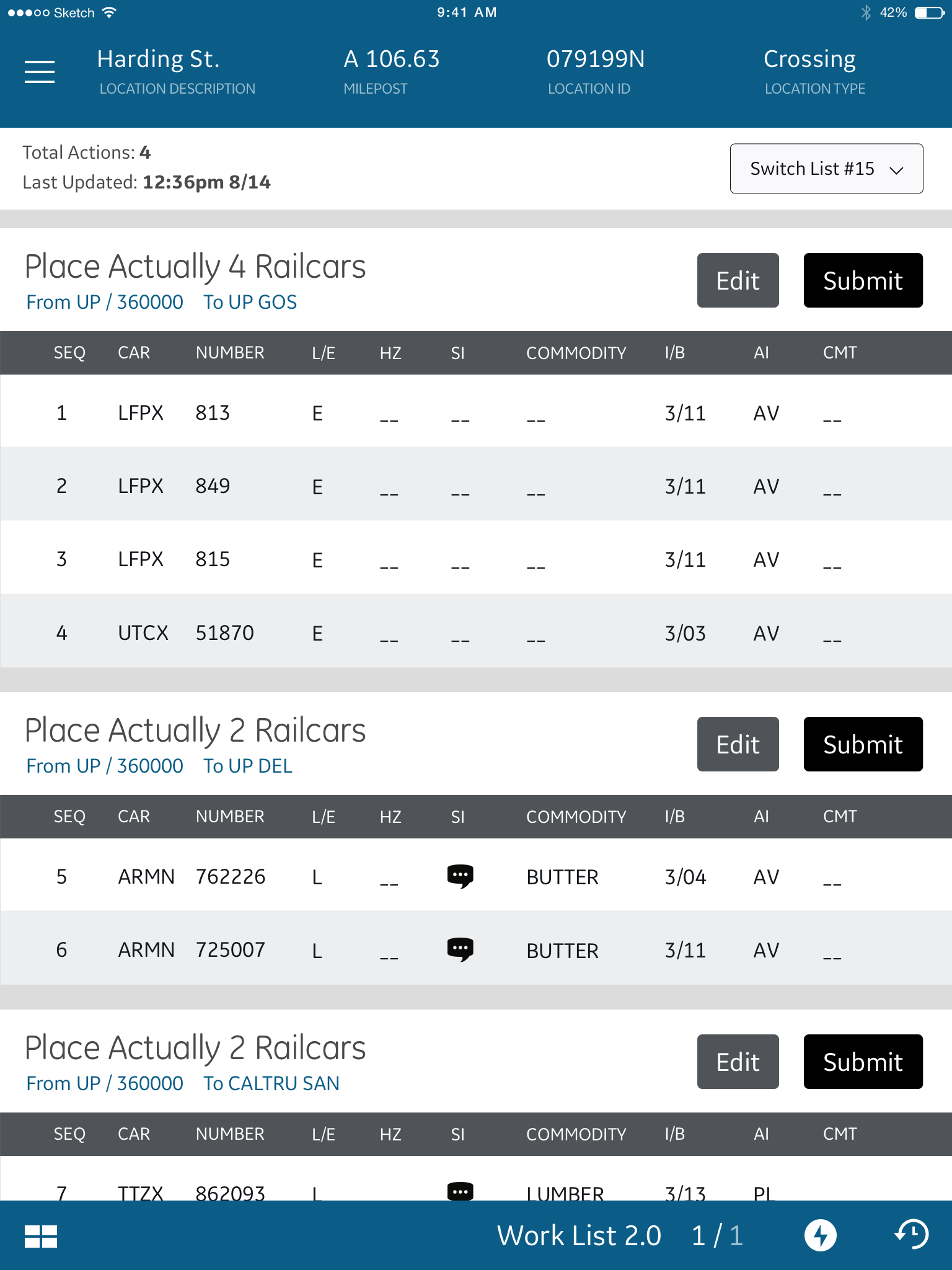 The final result (TBD) will be a lightweight app that gives crews tasks to complete with out having to duplicate information from a system generated paper list to then enter its completion back into a system. The app will dramatically speed up systemwide documentation, while returning data for consumption so the crew can just focus on railcar movement.


Responsibilities
User Experience Design
Information Architecture
Interaction Design
User Interface Direction
Usability Testing
RailDocs for GE

Think about how to manage the risk of moving trains from causing harm to the general public, now think compliance. The Federal Railroad Administration (FRA) holds railroads and individuals personally liable for the oversight of millions and millions of assets across the United States. These assets consist of the equipment and mechanisms that control railroad crossings, signals, and switches. They need to be regularly tested, maintained and configured to the standards set by the Federal Railroad Administration (FRA).




GE previously developed RailDocs as solution for railroad maintainers and inspectors to track assets, their statuses, and return that information to the FRA with the documentation required. However, increasing availability of mobile devices and the aging system forced a change in RailDocs platform.

RailDocs adopted Predix GO's asset management capabilities to facilitate federal compliance of railroad assets and their attributes. The first module to overhaul was CMS, Configuration Management System. It was developed to validate configurations composed of a variety of assets as functional systems.




By observing how the inspectors and maintainers at different railroads completed work, our assumptions of how they used RailDocs became apparent. RailDocs as an entire system lacked ease of use. The expected documentation methods were misinterpreted, maintainers and inspectors, in fact, still used paper to record values then enter the data within RailDocs away from the site.

This feedback from maintainers and inspectors made it clear that the product as whole needed to overcome usability issues with the hope to change their behavior. To do just that, I created an information architecture to simplify the relationships between locations and configurations, parent child components and the required data for each asset within Predix Go's UI.




To test this IA, I developed a quick usability test which walked a maintainer or inspector through various tasks to validate or de-validate the IA based on their completion. The tests validated the IA with some minor but expected changes to the UI. This same process will be used to gather feedback for the remaining RailDocs modules.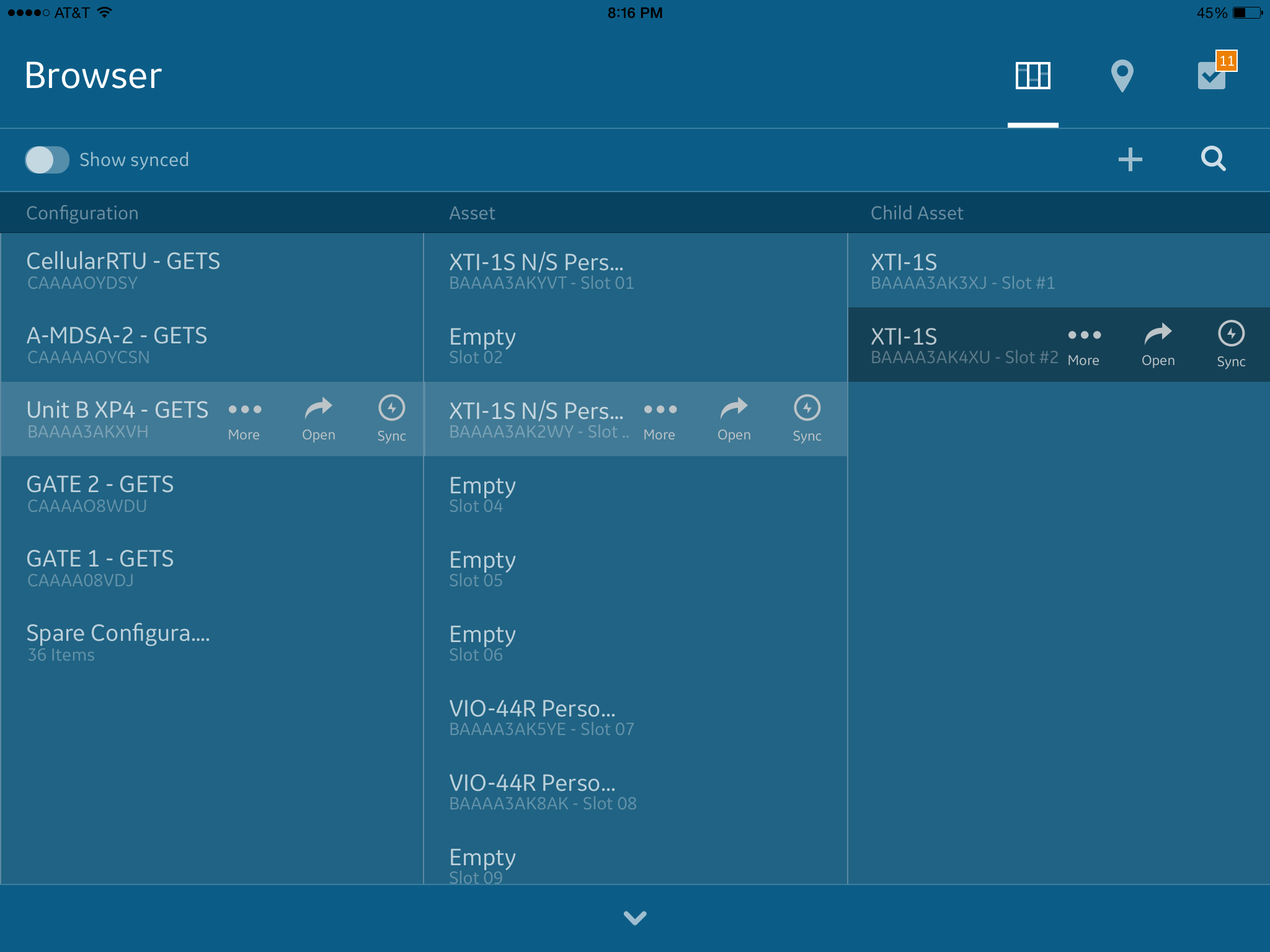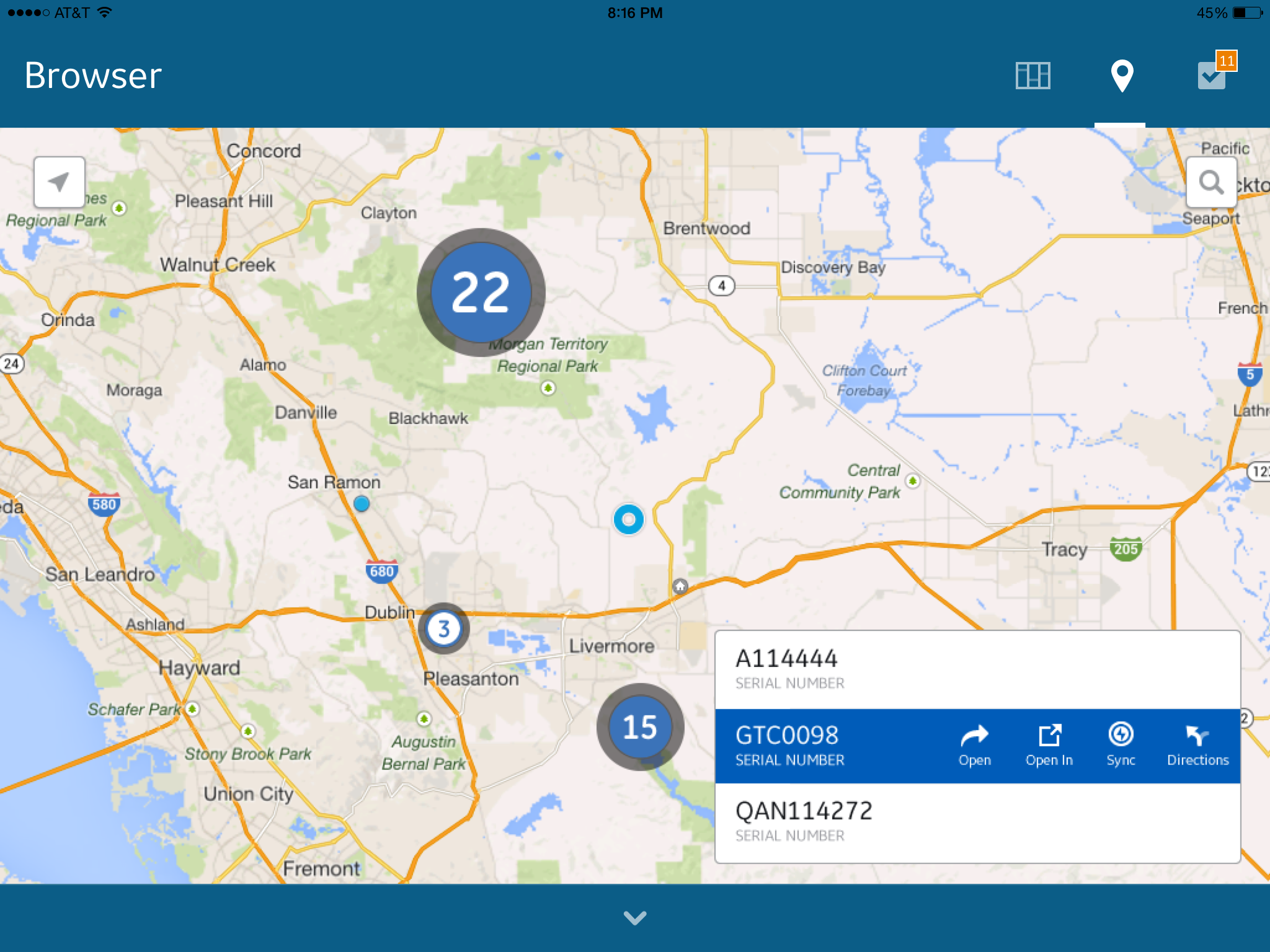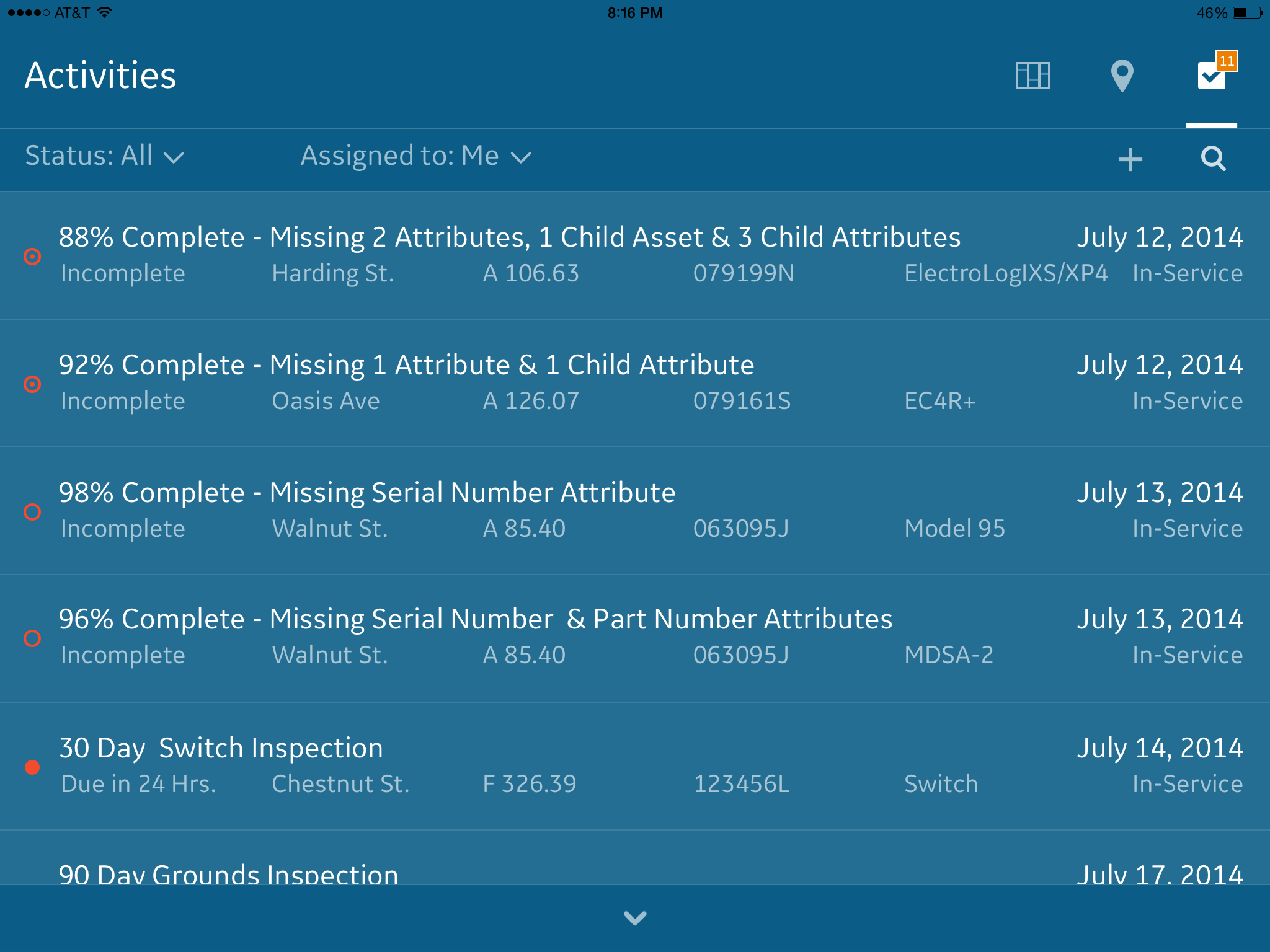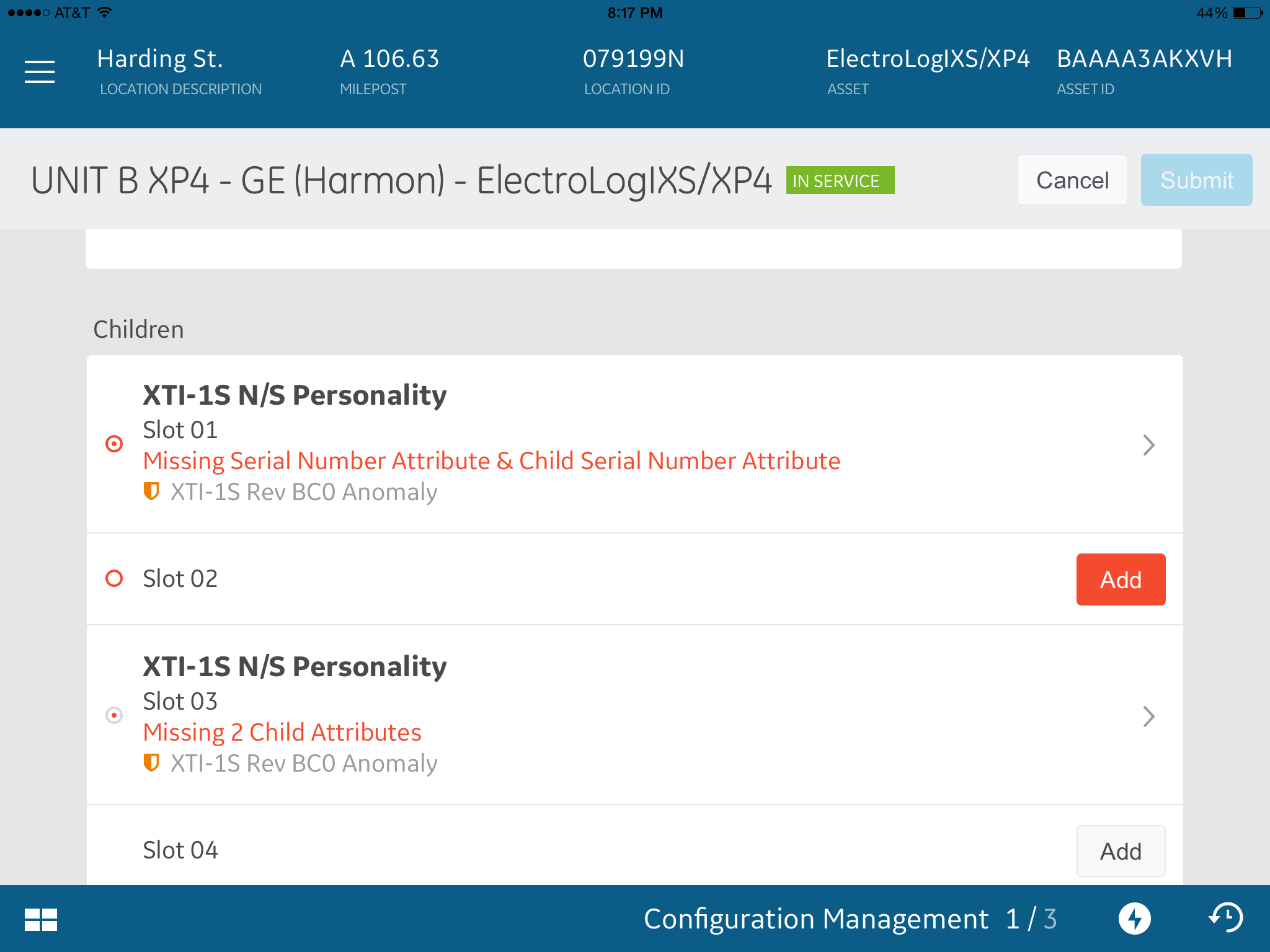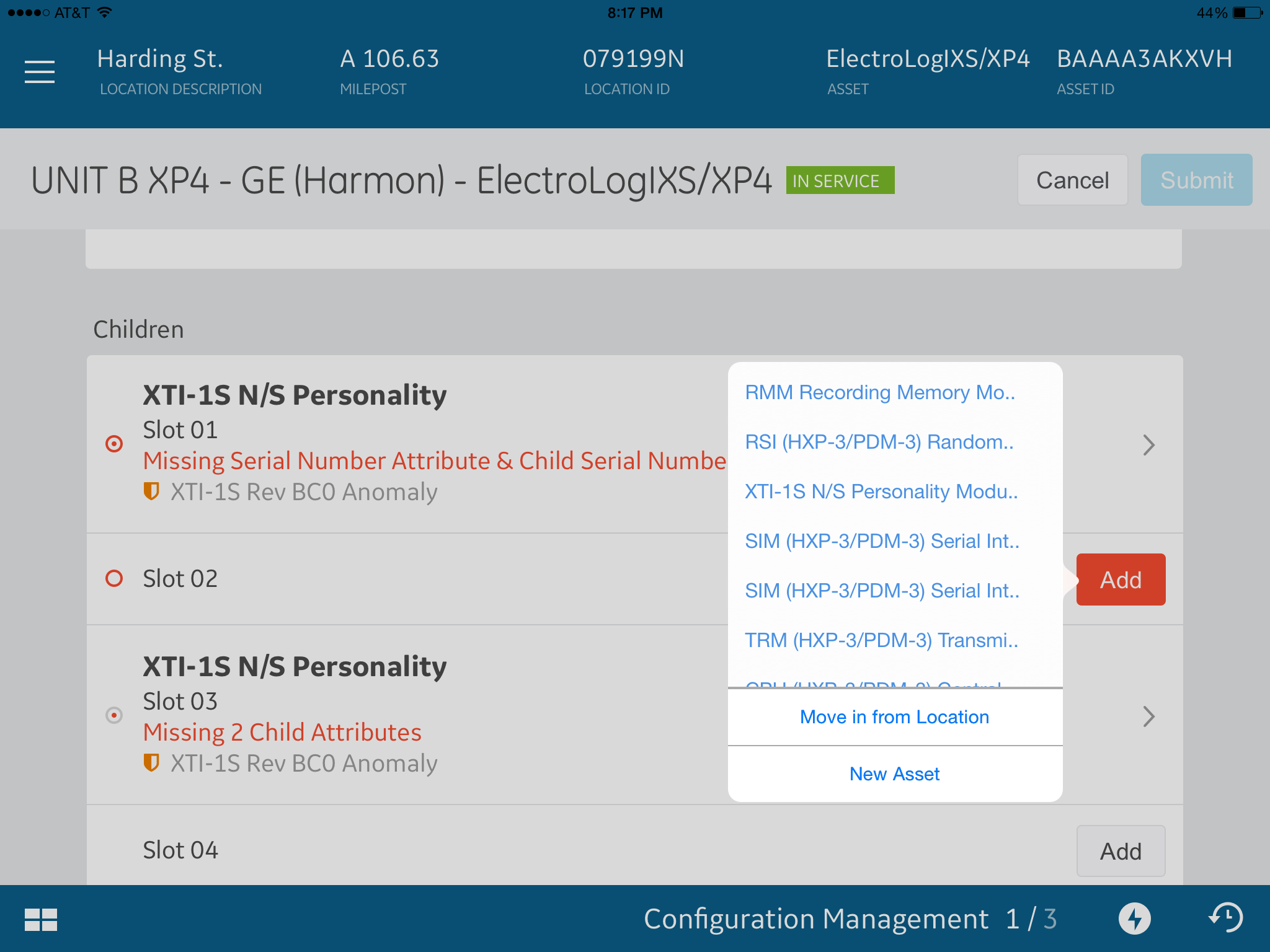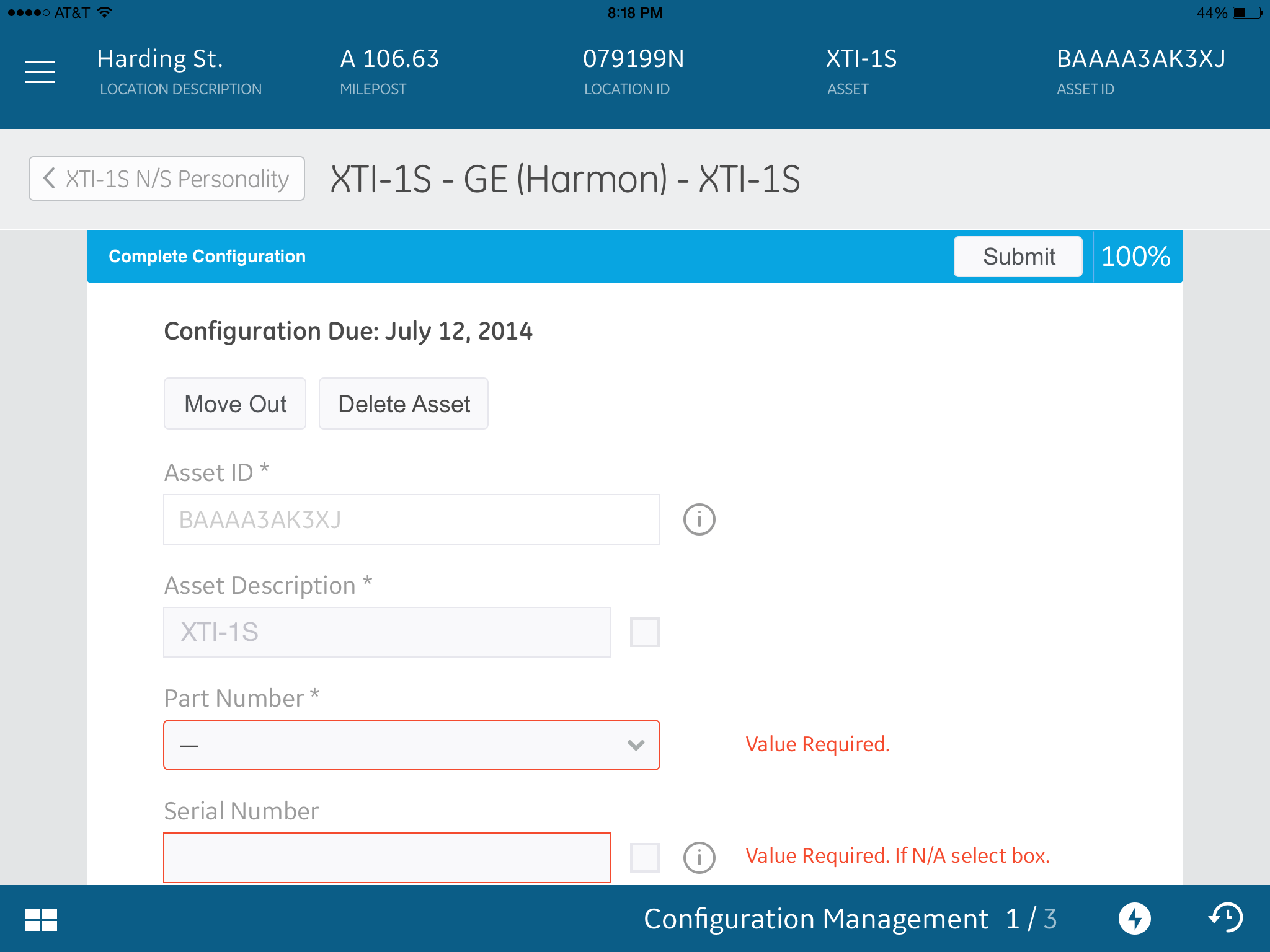 Prototype walkthrough, recommended viewing on a full screen. Please note the site player washes out some of the contrast.




Responsibilities
User Experience Design
Information Architecture
Interaction Design
User Interface Design
Usability Testing
Get Leo - aquired by Lyft

Leo, a temporal chat app allows friends, family and those with whom you are connected to quickly capture and send video, photo or text. Once a message is received it can be swiped away and will disappear from existence in moments.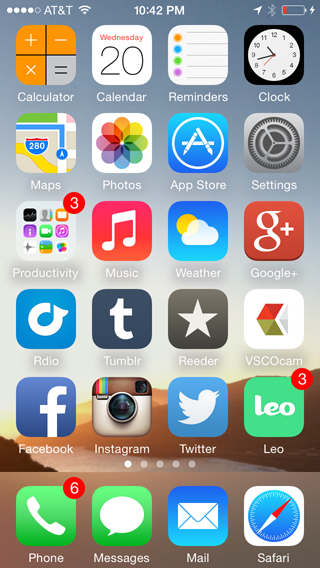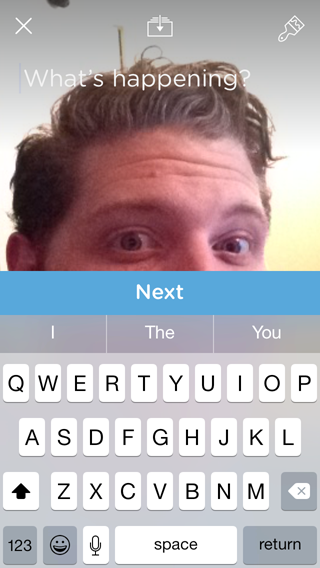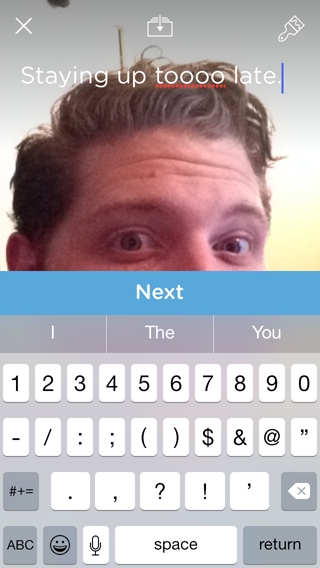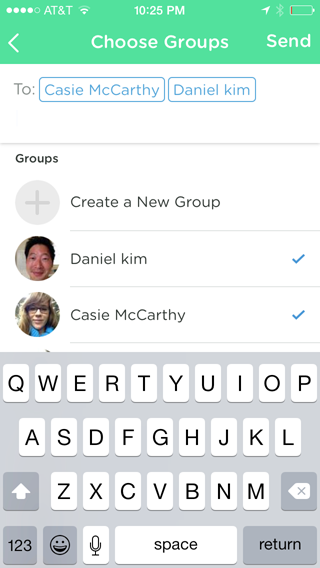 I was contracted early in the process to brainstorm with the founders how Leo was to be defined. The core features of Leo were heavily scrutinized by the team so that their users were not burdened by functionality, instead delighted by the simplicity.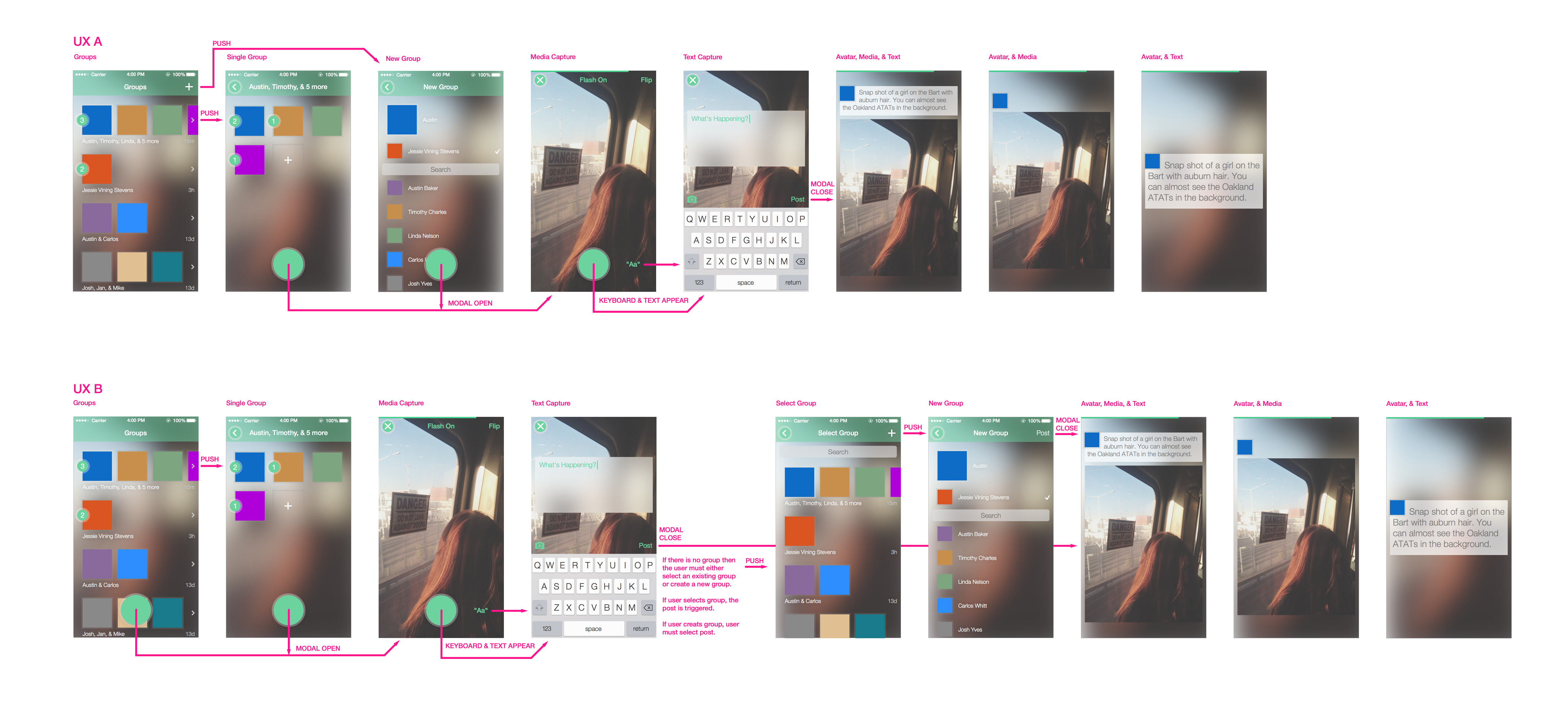 By designing the features around these goals, I was able to construct the information architecture in a way that simplified the user interface to a minimal number of screens with focused content. The interactions to capture then send video, photo or text embrace the principle of deference, helping the user to understand and interact with the content, but never to compete with it.

Responsibilities
User Experience Design
Information Architecture
Interaction Design
Xoom - aquired by PayPal

Xoom, a world wide remittance application serve those who have uprooted their lives to work and live abroad by simplifying the experience of sending money home.

I was brought onto Xoom at a critical point. Their first version was awaiting release, a core usability study was wrapping up, and Apple's WWDC Keynote announced their pending development for iOS7. The realization of a core overhaul was instant.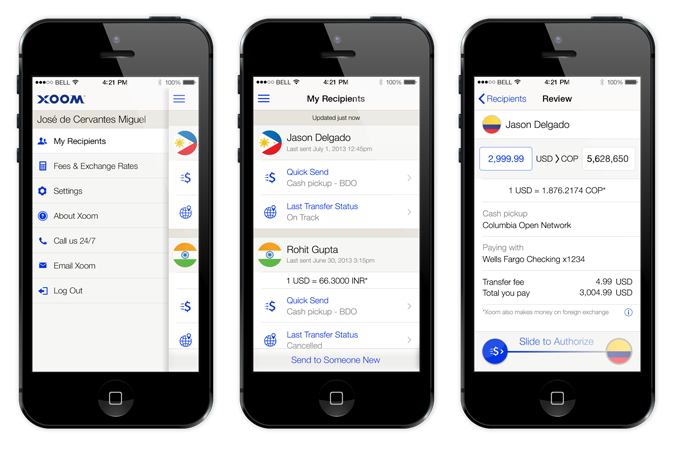 By stripping away user interface embellishment, focusing on content, and revisiting the architecture I created a clear experience for their task based app, with a recipient perspective.

Responsibilities
User Experience Design
Information Architecture
Interaction Design
User Interface Design
Usability Testing


High-level Wireframes for iOS7 & Android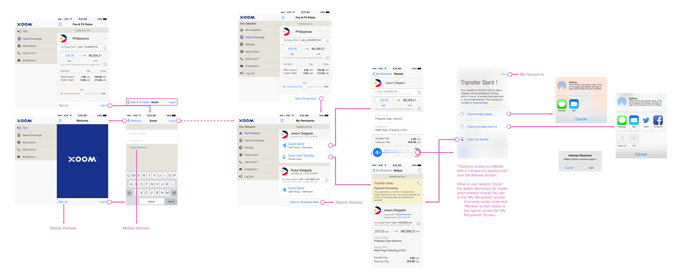 TwoGo for SAP



While working for SAP I designed their first consumer pointed mobile app. As a spinoff from its enterprise focus, TwoGo represents a cultivation of employee culture, green initiatives and business savings toward an inherently mobile and peer to peer market.




From the start, SAP employees used the app to schedule meeting requests for carpools to and from work. I was able to interview several users to understand their use, drafting person's from user's actual stories. Following the scope, I focused on the detailed use cases which shed light on understanding potential user interface objects, architectural, and interactive structure.




The initial version brought valuable insights, by serving as a testing ground first through interface testing, then usability studies. From these insights I was able to press into specific issues to create an even greater user experience for the initial release. Check out TwoGo for Web, iPhone and Android.

Responsibilities
User Experience Design
Information Architecture
Interaction Design
User Interface Direction
Usability Testing

Early mobile prototype

Personas & User Stories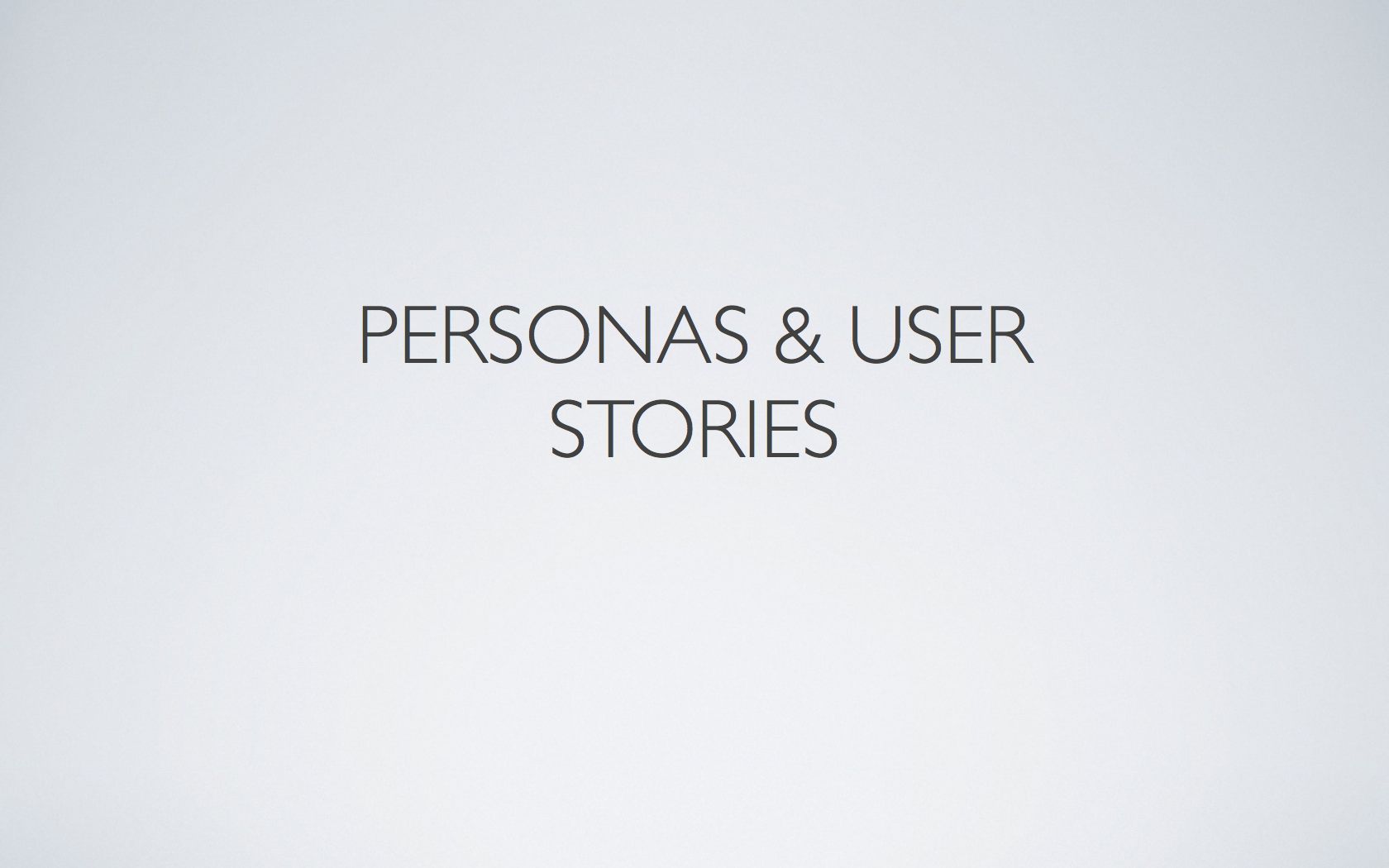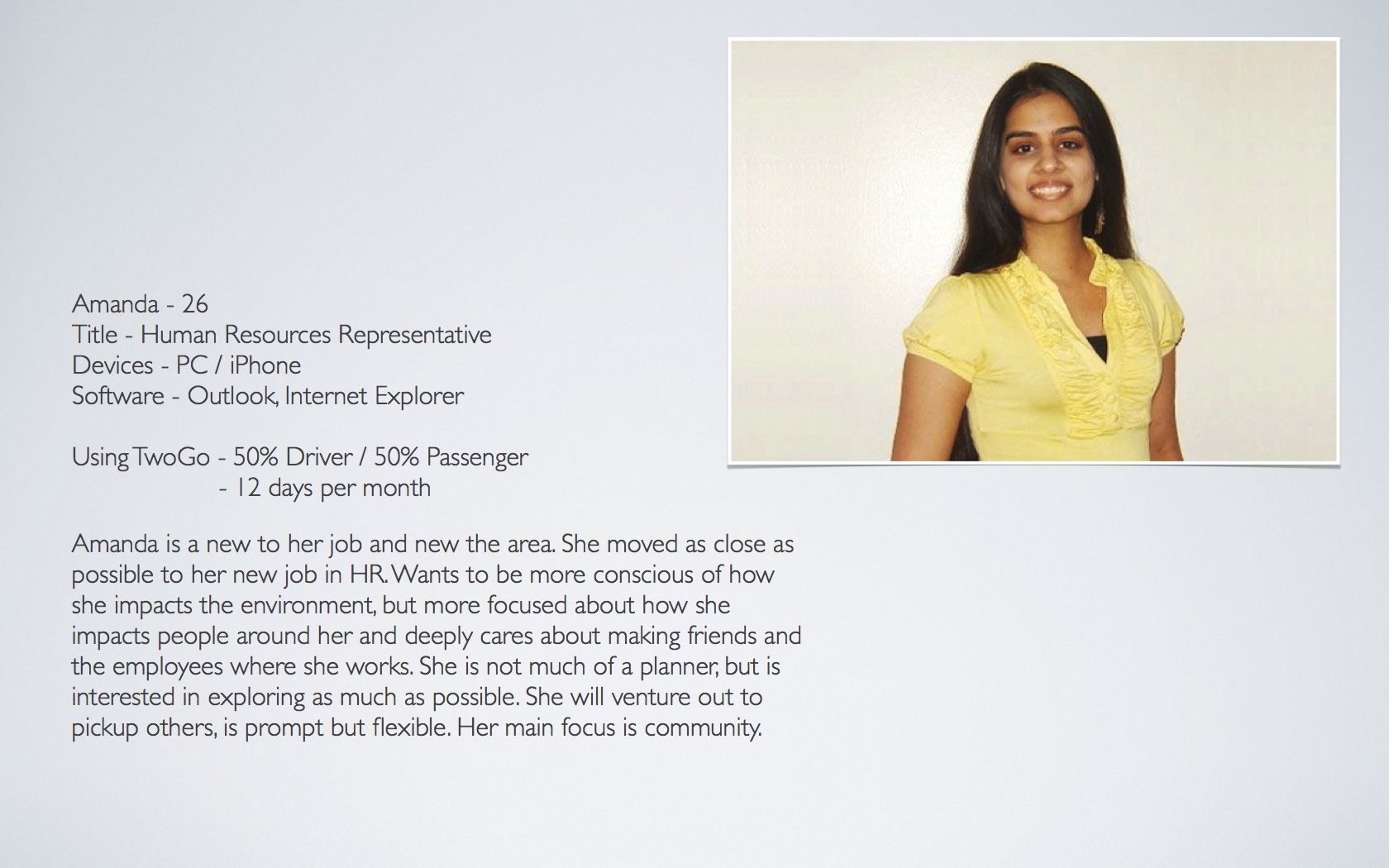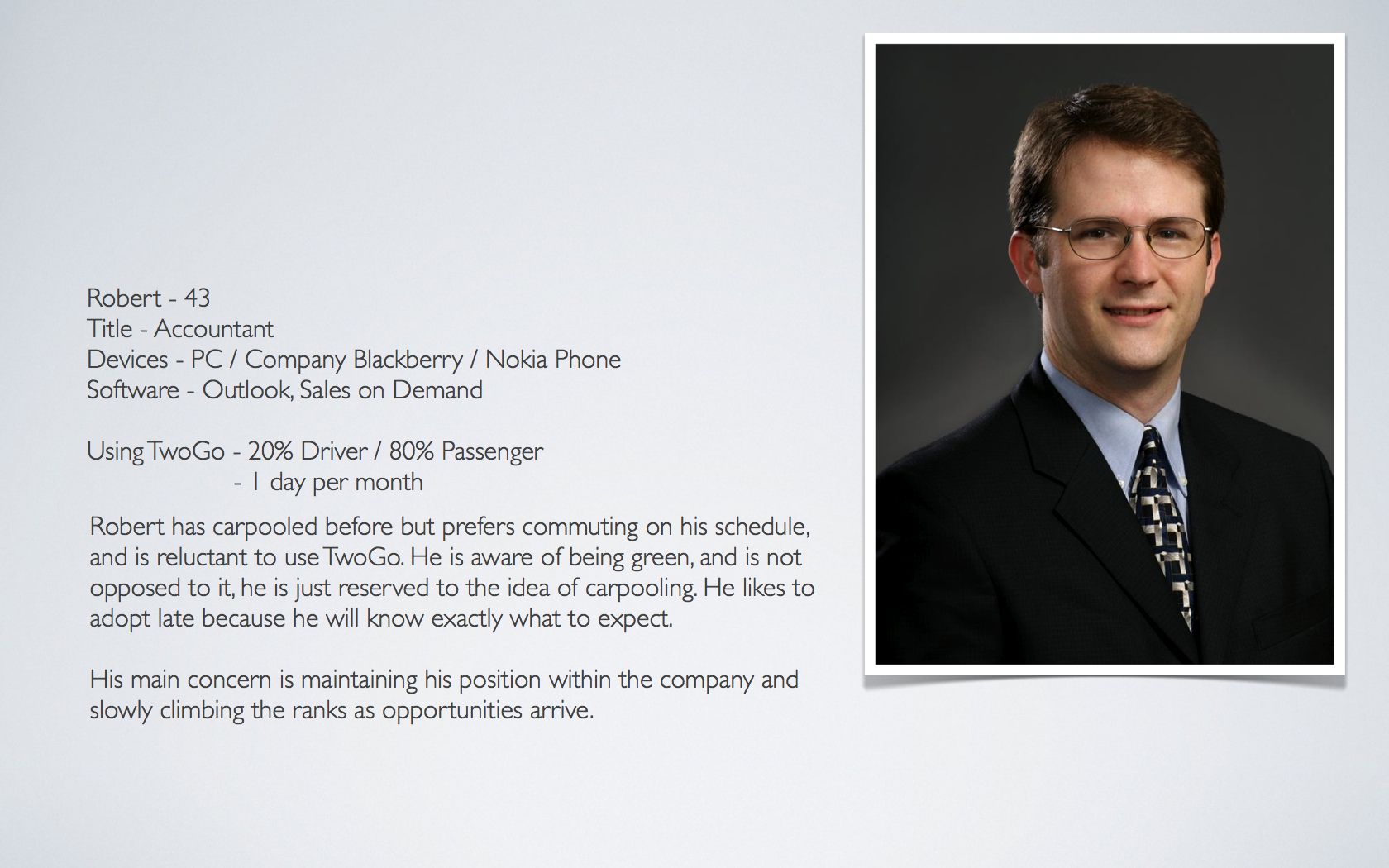 Use Cases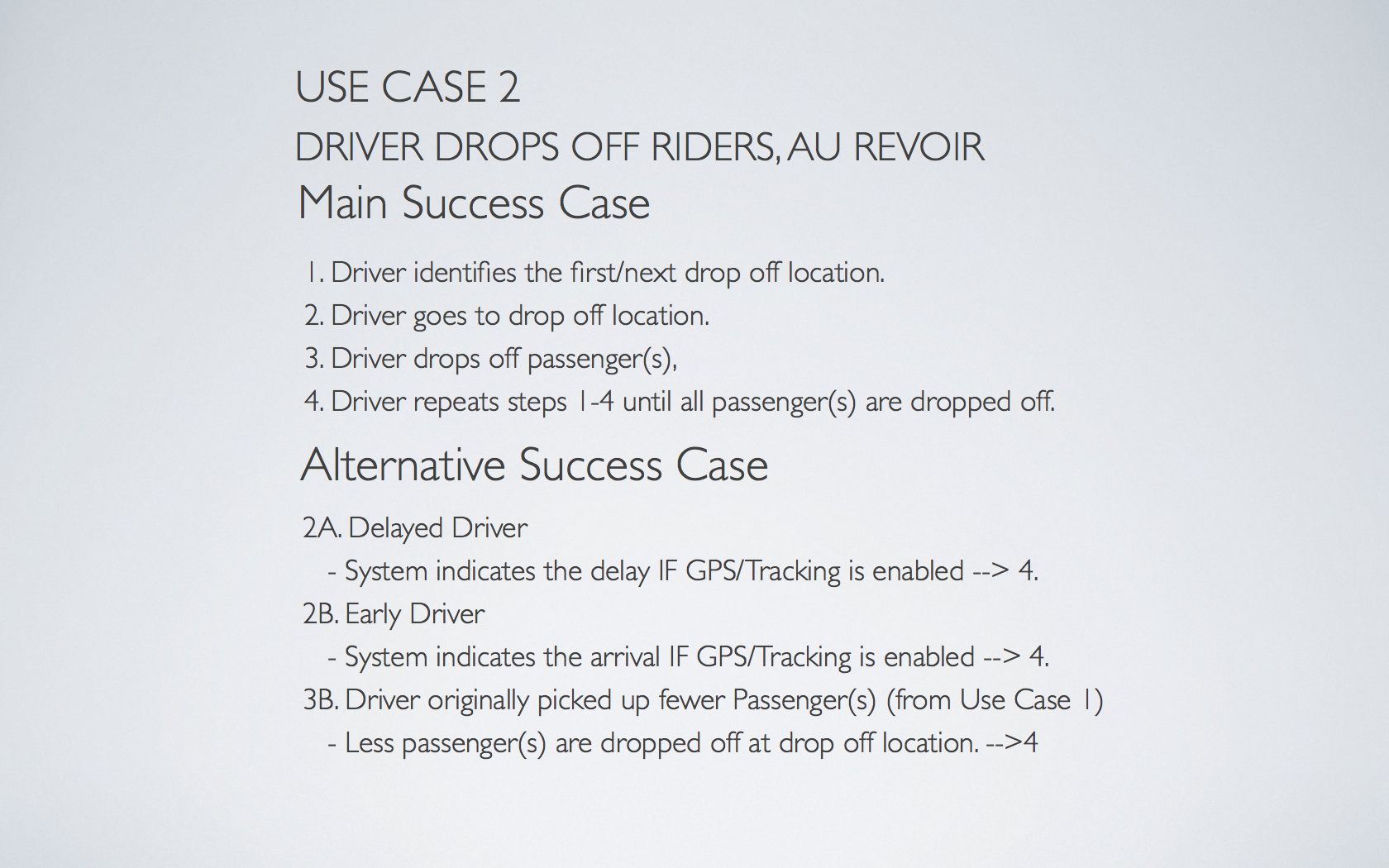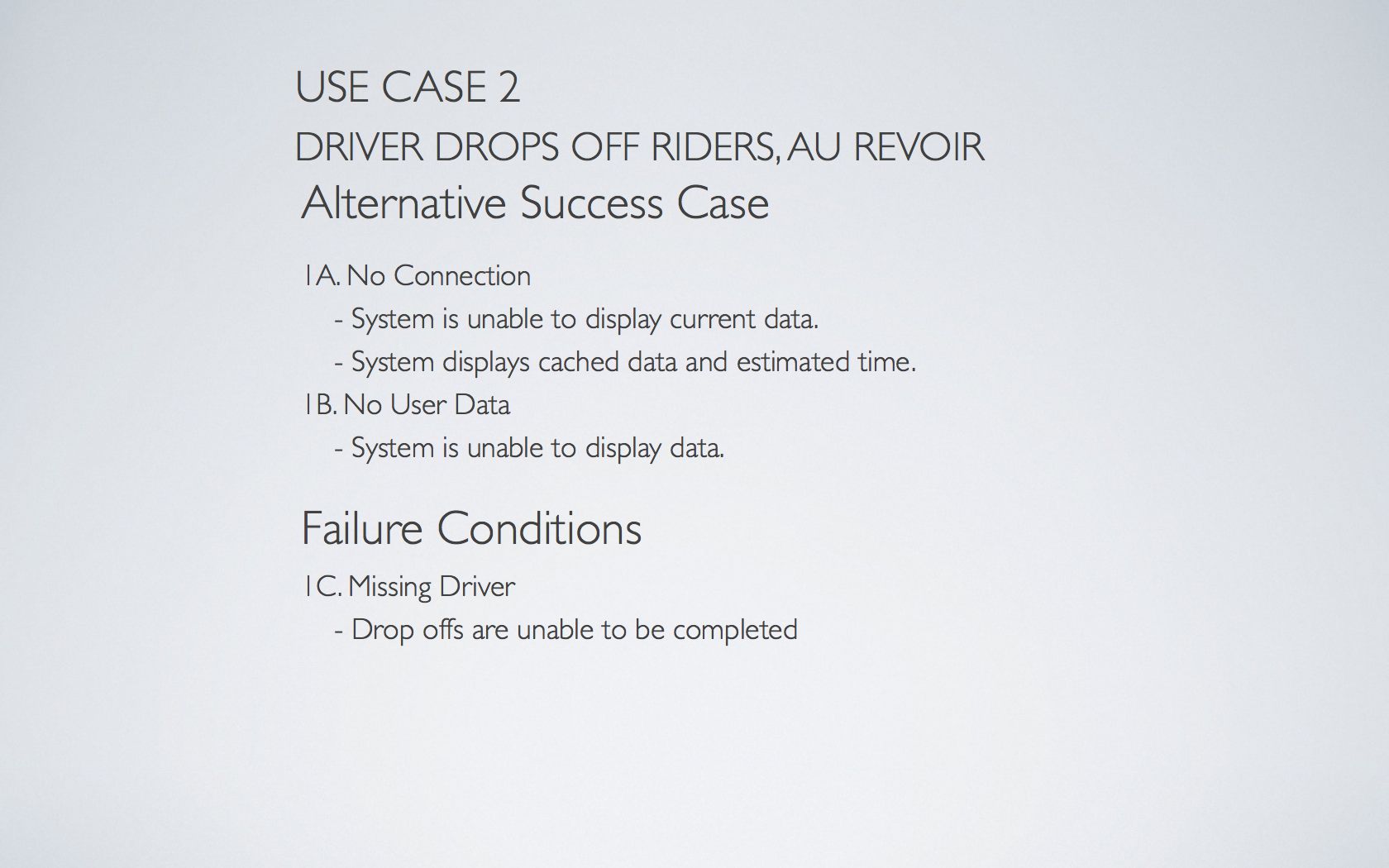 VIA Information Architecture
Early Wireframes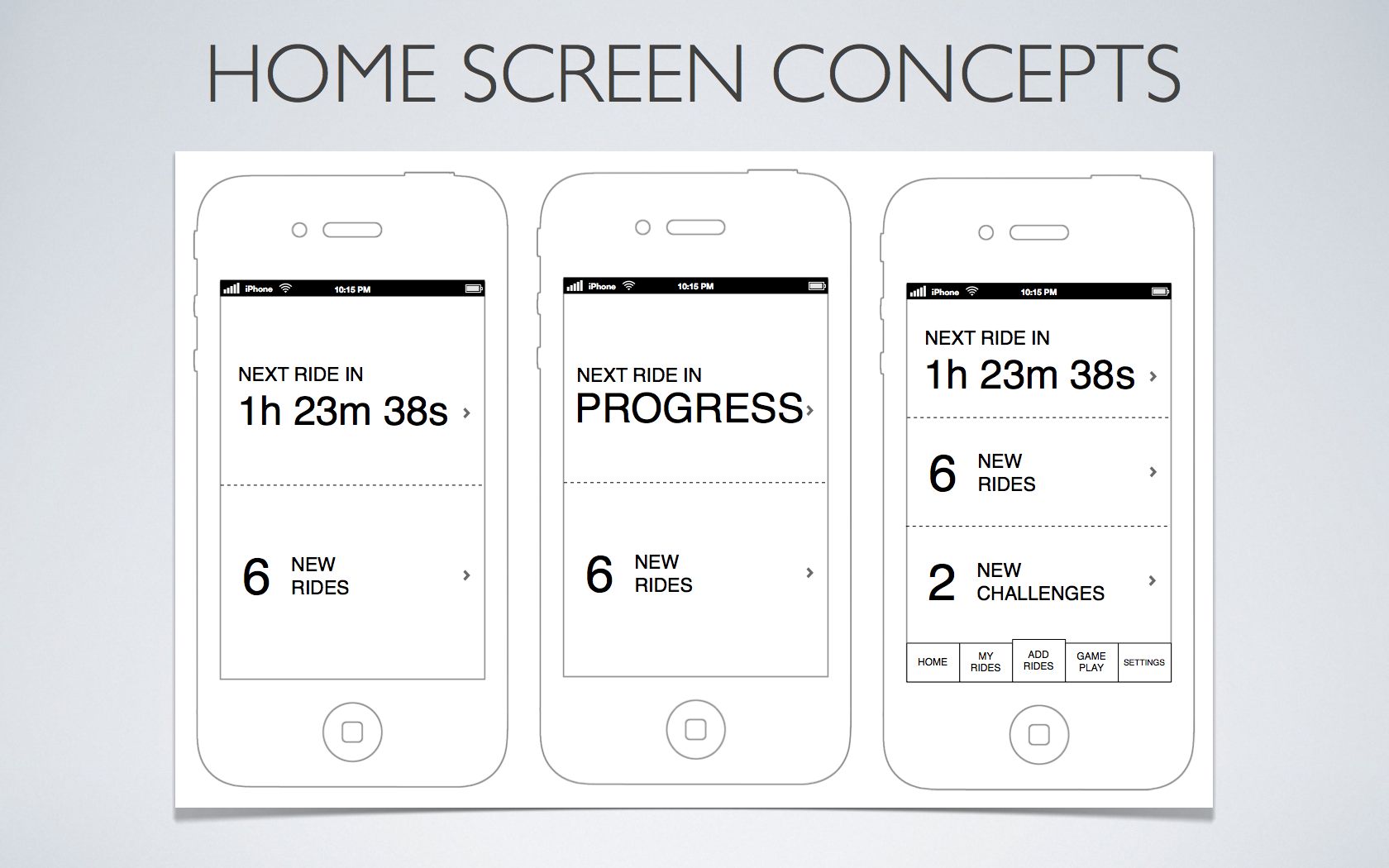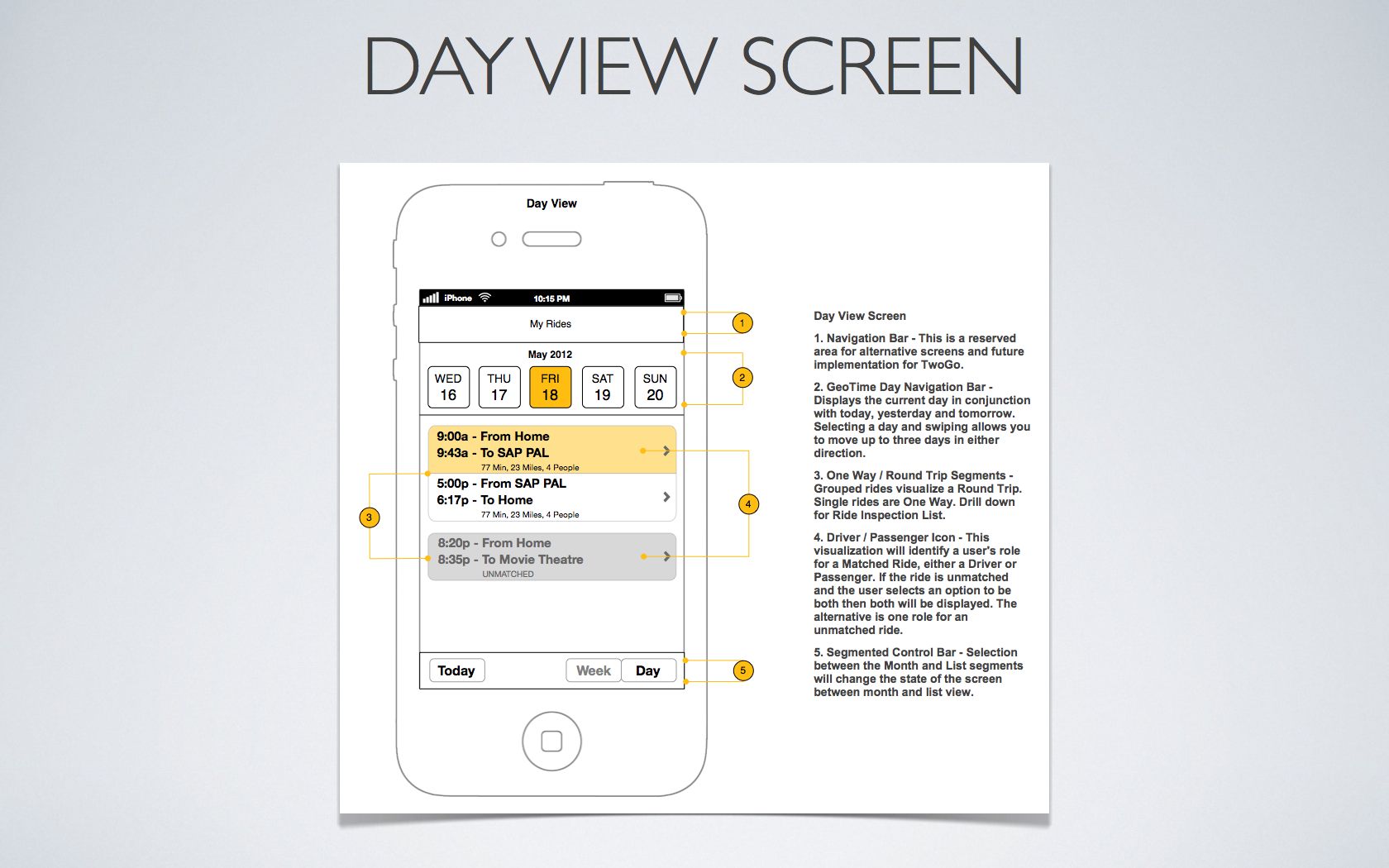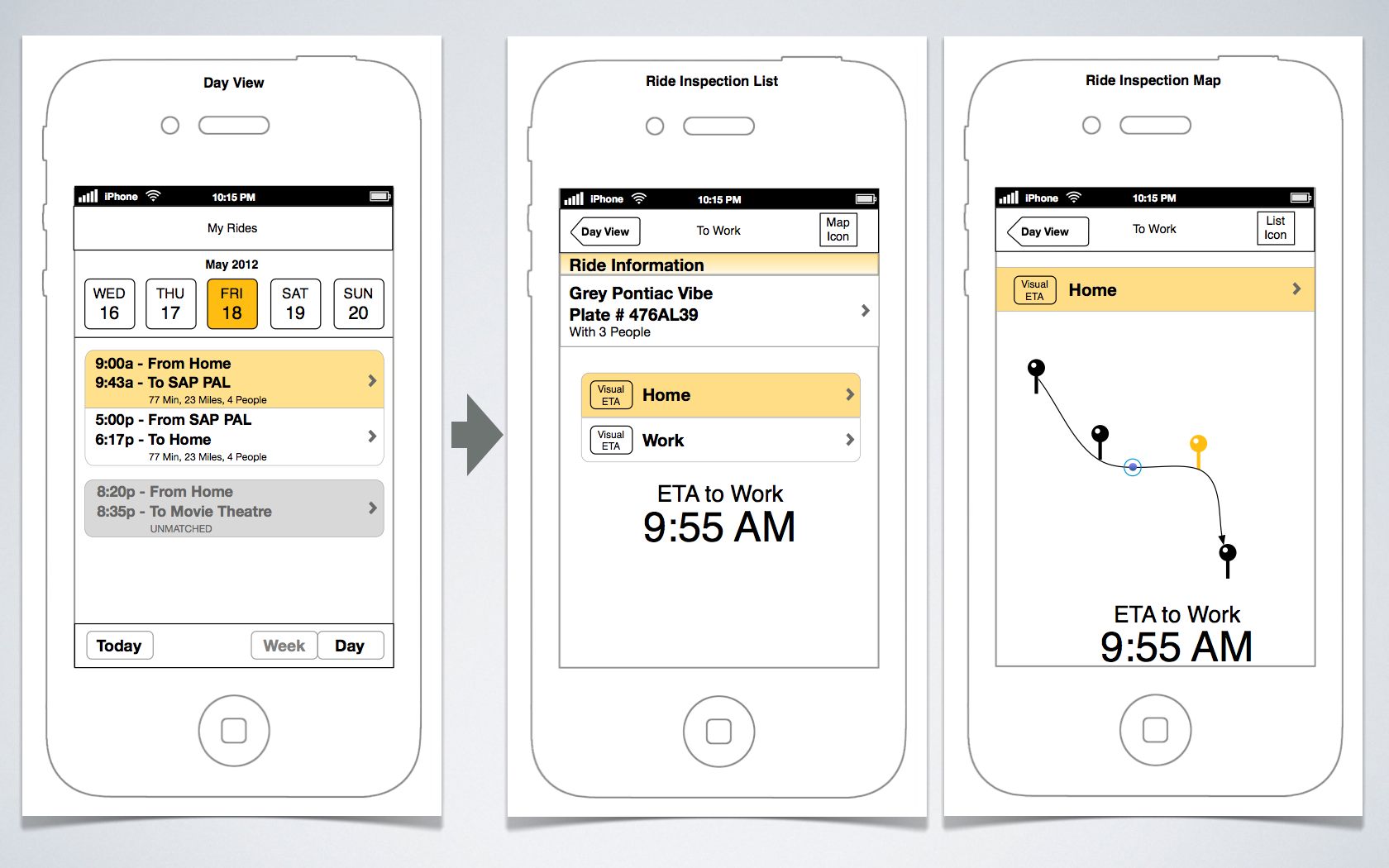 Revised Wireframes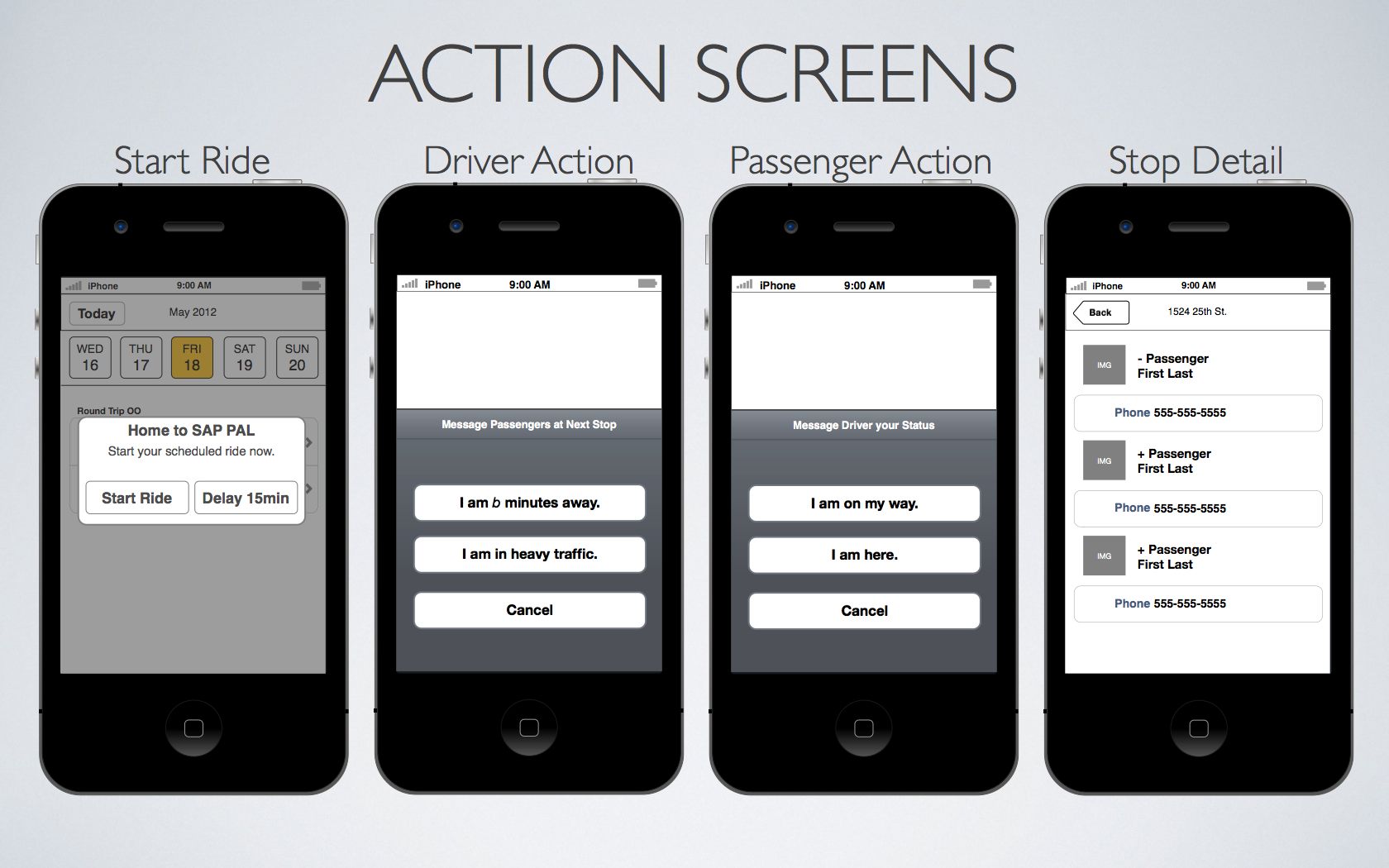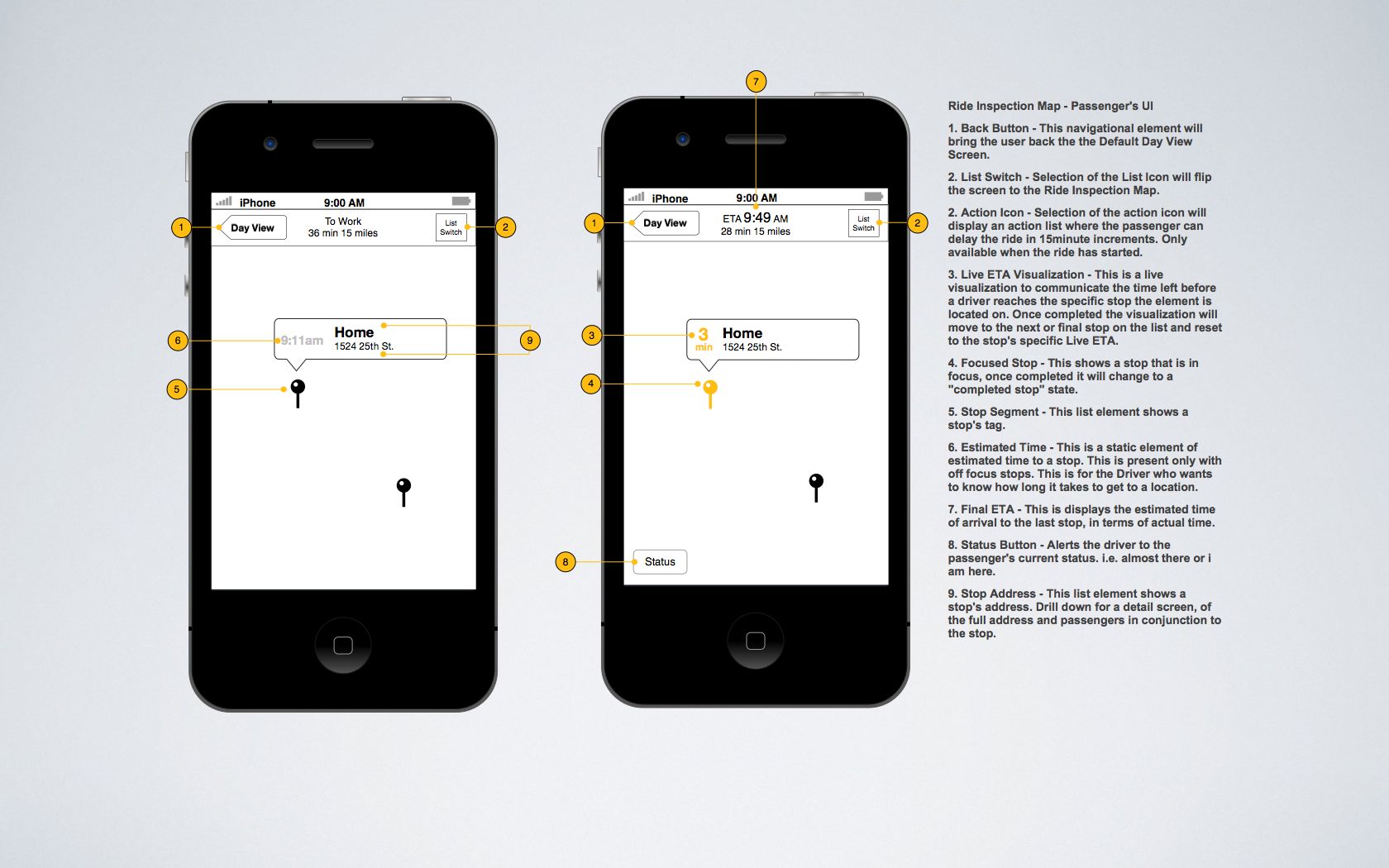 First release of version one for Android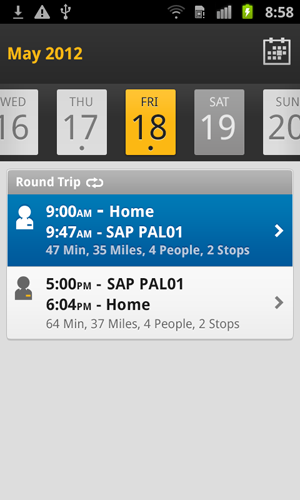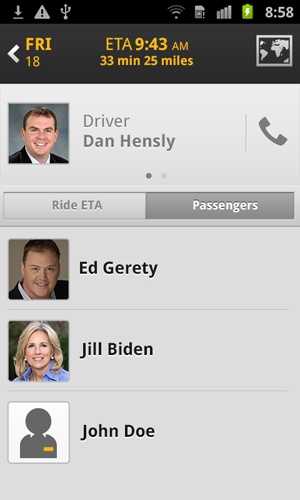 First release of version one for iOS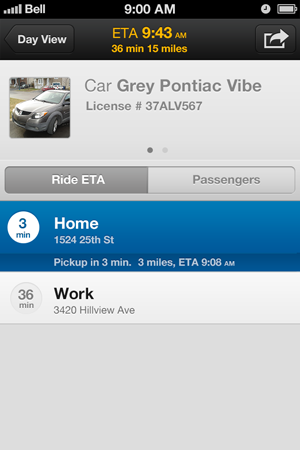 Current Release for TwoGo on Android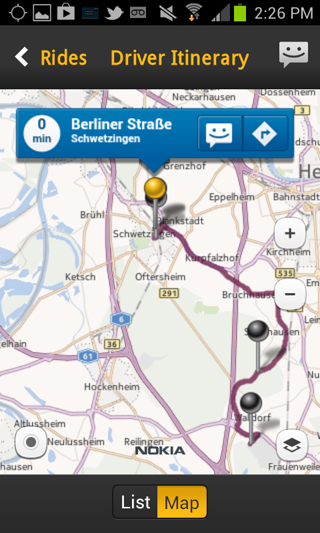 Current Release for TwoGo on iOS